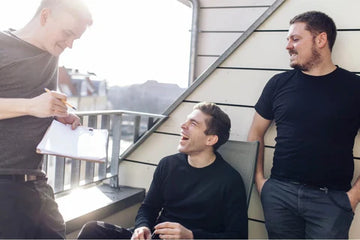 Hey! It's good to see ya! 😉
Hi! We're Senic, the company behind MoodBlocks and MoodPlay.
You might already know us from our smart home switches which you can find at www.senic.com
We're a group of engineers and designers from around the globe stretching Germany, India and Denmark. The core of our team is based in Berlin and we come from a long family tradition of hardware manufacturing and software development. We're here because we want to make it simple for everyone to enjoy the power of sound and light. Read more about our story here.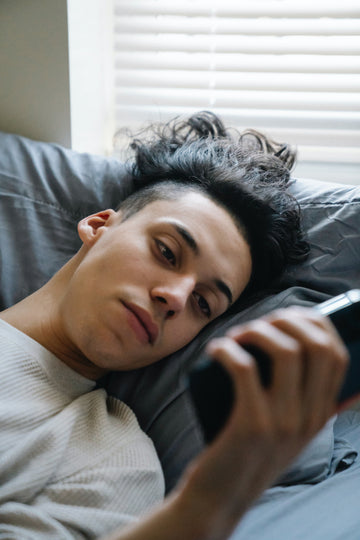 Living in the Age of Distraction
10 years ago, we were having dinner with friends. We had a good time but one of our friends was using his phone the entire time. Physically he was present but his mind was somewhere entirely different.
The internet and phones have brought great improvements to our lives but we now also live in a world of distraction and negative side effects, like a feeling of isolation, depression and lack of patience, are clearly on the rise.
Even the man behind the iPhone is famously quoted that "I wake up in the middle of the night, wondering what we brought into the world".
Nobody could have predicted these effects; yet we need to deal with them. We need to redesign technology in a way that brings even more positive benefits to all of our lives without the negative side effects.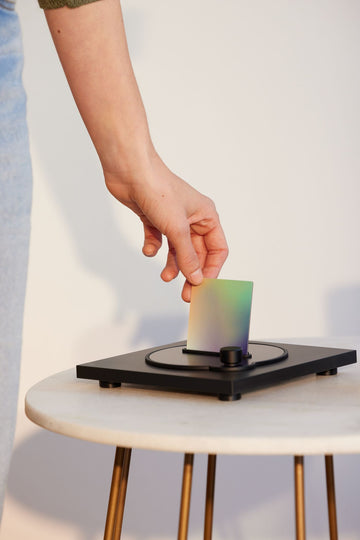 Design has the power of Change
Design has the power to do this. Low ceilings for example lead to more focus while high ceilings lead to more creativity. A long table leads to more focus on the person at the end of the table while a round table leads to a more inclusive discussion.
But how can we design technology differently so it has positive effects on our lives?
This is the question that we've been exploring for the past ten years. We've made a lot of progress but there is so much more to uncover. Currently we're focused on the issue of accessibility. How do you make the power of sound accessible to everyone? Whether you're a kid, an elderly person, illiterate, blind or simply not a very technical person. Not only smartphone wiz kids should have access to these types of products. How can we control music but without the distraction of the phone in the morning or when going to bed?
MoodBlocks and MoodPlay are great solutions to these problems. There are so many more directions we want to explore with this product and we hope that we can get your support on this mission. Please share your insights and learning about your experience with the product. It will help us to tackle a growing and important social issue.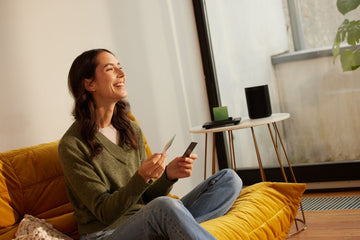 Our Product Values
Let us share with you why we build products like this and why we care.
Simple
Simplicity is at the core of what we do since we want to make the power of sound accessible to everyone. Products like this should also not just be available for technically versed and capable people. You can either optimize for a lot of flexibility and options at the cost of simplicity or vice versa. This is one of the challenges. We have to say no to many things in order to keep things simple.
Useful
There is a lot of 'stuff' already out in the world. We're very conscious of ourselves and therefore constantly ask ourselves if our products are really useful and add benefit to people's lives. We pay close attention to how much people use our products and what feedback they give us. If the product is not truly useful to them, it should not exist.
Sustainable
Sustainability is one of the core issues of our times. The dream would be a circle economy in which materials don't get "used up" but enter a circle in which it can be reused over and over again. This is not  always possible as of today but we're spending a lot of time on this topic and are trying to be a role model on what's possible. Our packaging for example is made of degradable grass, we reduce waste and manuals as much as possible and try to use recycled plastics wherever we can. Our products are also locally manufactured, and materials are sourced regionally.
Healthy
Technology has had a big impact on our lives. Everything is moving at an incredible speed. People are overwhelmed in a digital age. People feel left behind, uncertain about the future, isolated, distracted or even depressed. Our products are designed to unlock the power of technology without these negative side effects.
Responsible
A lot of our customers care about the important decisions they need to make in their lives. How do I use technology myself in the home so I can be a positive role model to my kids? What kind of technology do I give my kids access to? How do the things I use and buy affect my partner, my parents or my friends? We try to address these questions with our products.
Fun
Oscar Wilde once said that "Life is too important to be taken seriously" and we agree. We need to have fun in our lives and things like music and dancing can bring a lot of fun and laughter to our lives and our products should be fun to use.
Calm
It's too much. Adults spend an average of over 8 hours in front of screens today. We grab our phones the second we wake up and it's the last thing we do before we go to bed. Notifications bombard us and apps like Twitter are literally designed to keep our attention hooked. Technology should be a tool, nothing less and nothing more. It should help us to get things done and should be left out of the way otherwise. It should be non-obtrusive and calm and support us from the background without distraction.
Focused
Music has lost a lot of its 'special' character. Many of our customers would like to know more about music, the artists who created it and explore the world of music. But music has been degraded to something that just keeps playing in the background. We want to help those people who care about music to dive into an ocean of exploration and truly enjoy music the way the artists intended it.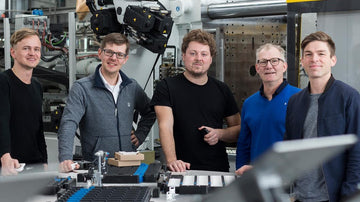 Made in Germany
Germany is one of the few places in the world that has excellent infrastructure to build high quality products. You can build great products in many places but the key is to spend a lot of time with your suppliers and manufacturing partners. This is what we do. We visit our partners and spend countless hours understanding manufacturing processes and how to build the best product with them. We're very grateful for their continued support and they are an integral part in moving our mission forward. Thank you!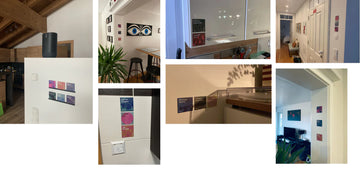 Thank you
None of this would be possible without your support. Please test our products and subscribe to our newsletter.