Skip to product information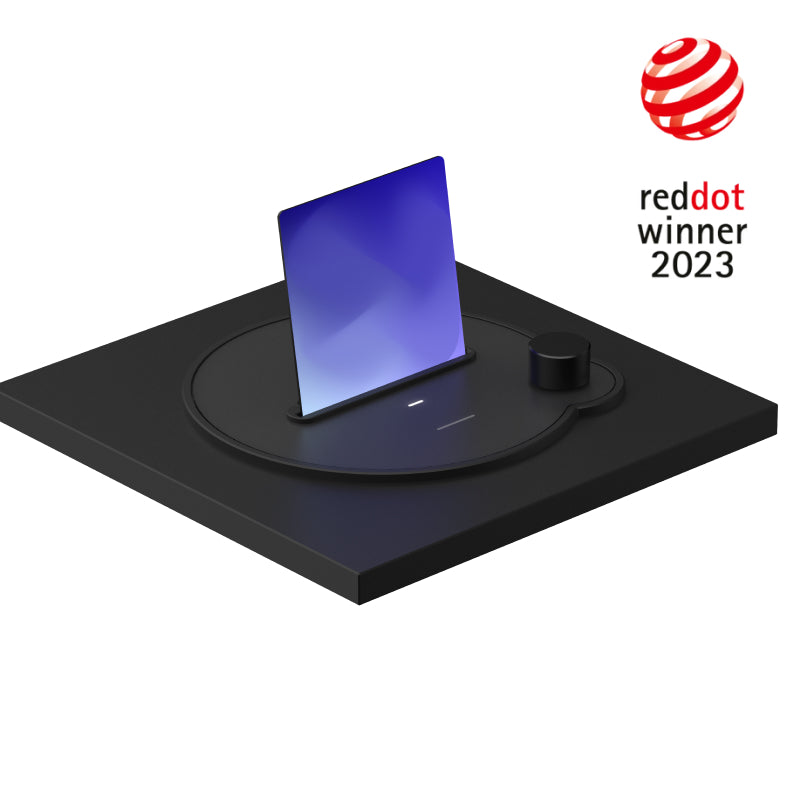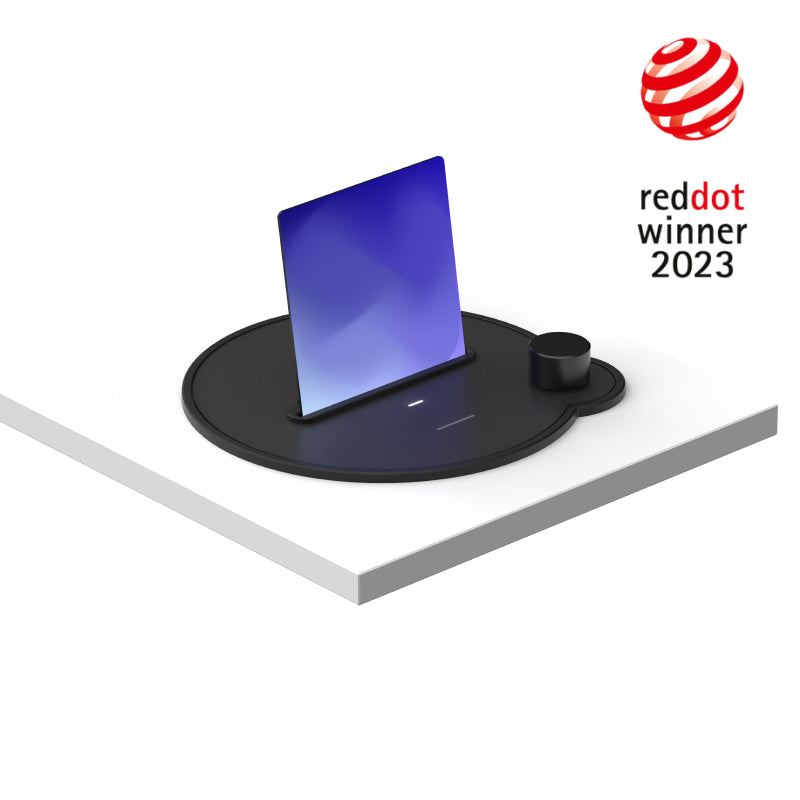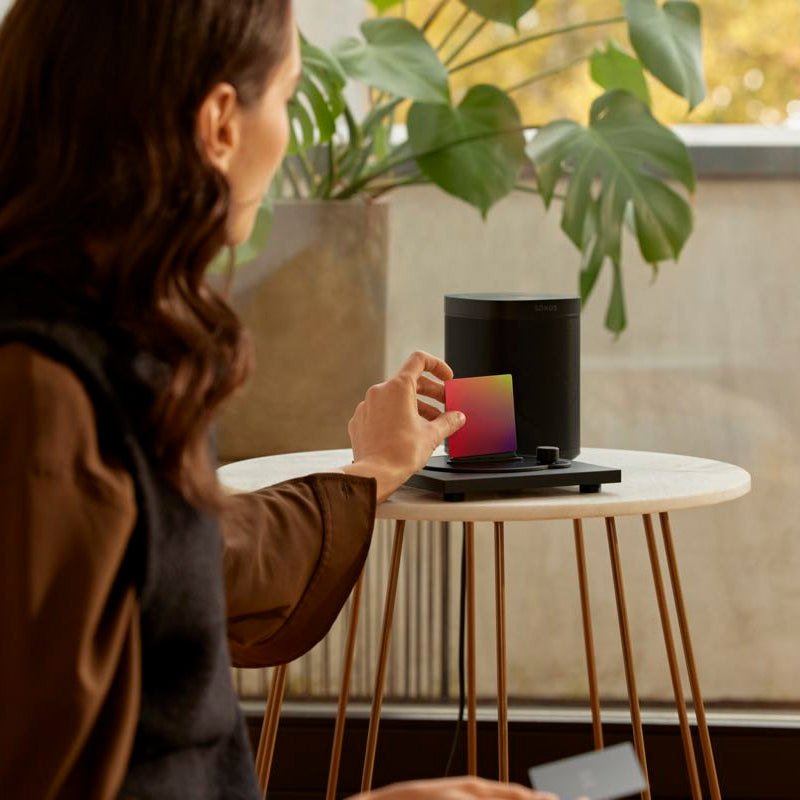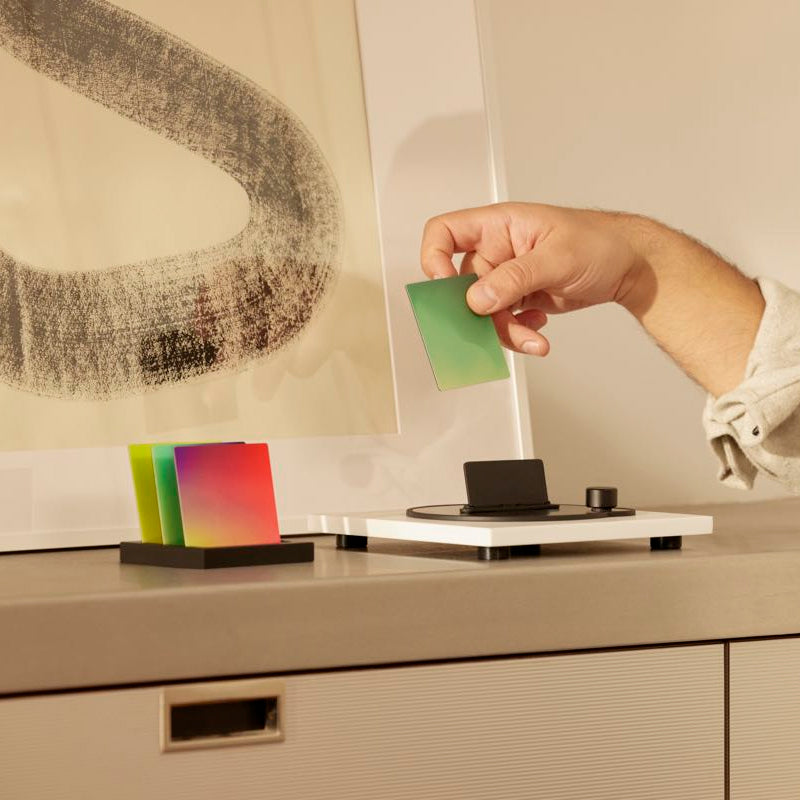 MoodPlay
Sale price
$276.00
Regular price
Tax included.
Every MoodPlay package includes the following items:
• 1 MoodPlay
• 3 MoodBlocks (1 Sonos Radio Block + 2 Creative Blocks)
• 1 Sticker Set for MoodBlocks
• 1 USB-C Cable and Charger
Compatibility:
• MoodPlay supports all Sonos speakers, including S1 and S2.
• Sonos Radio Blocks with Sonos radio stations.
• Creative MoodBlocks allow you to store your favorite music from Spotify Premium or Apple Music. Please note that Spotify Free is not currently supported. We are working on adding more music services through future updates.
Requirements:
• To use MoodPlay, you need a Sonos system.
• For Android users, an NFC capable smartphone running Android 8 or newer is required.
• For iPhone users, an iPhone 7 or newer with iOS 14 or newer is needed.
We accept all major forms of payment including Paypal, VISA, Mastercard, Apple Pay, Google Pay or Shop Pay. For more details, please proceed to the check-out.
We currently only ship to European countries and the UK. If you live outside of these areas, please subscribe to our newsletter at the bottom of this website. We will increase shipping zones very soon.
We offer a 30 day, "no questions asked" return policy as well as a 2 year warrenty.
Simplify your home
Pick a MoodBlock and place it on the MoodPlay to start listening to music.
Tech free
Keep your phone in your pocket. Focus on what's going on around you.
For the entire Family
It's easy for everyone to enjoy music with the MoodPlay. It's even kid friendly!
Just fun to use
Bring the fun back to playing music again with a great tactile experience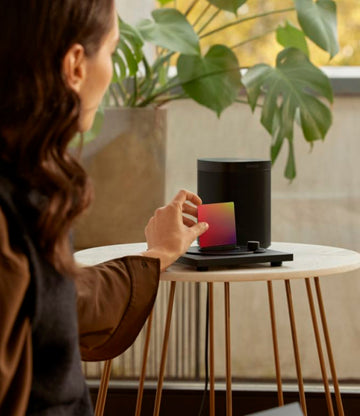 Simple Control for your Entire Family
Just place a MoodBlock on the MoodPlay to start playing music. Simple, phone free and designed for your friends and family (kids too!). We built the MoodPlay so anyone can use it.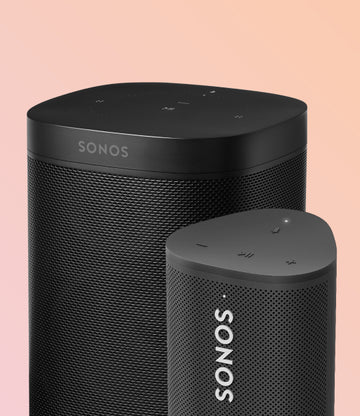 Works with All Sonos Speakers
The MoodPlay works with all Sonos speakers. Use the free MoodBlocks App to configure where to play your music.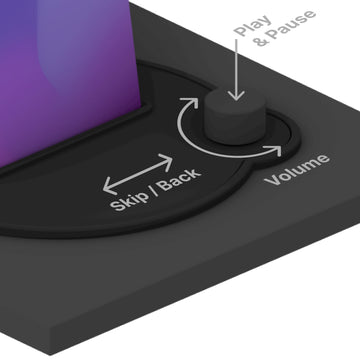 All the Controls you Need
The MoodPlay offers all the controls you need so you don't need to pull out your phone. Use the tactile dial to play and pause music and adjust the volume, or use our touch controls to skip a song. If you would like to learn more about the functionalities of MoodPlay, please click on the link below.

More info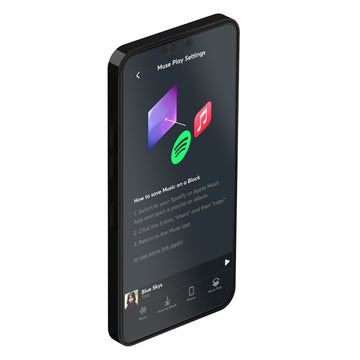 Simple Setup & Configuration
The MoodPlay App guides you through a simple 2-minute setup process for MoodPlay. Each MoodPlay includes 1 Sonos Radio MoodBlock and 2 creative MoodBlocks. Once set up, you can personalize preferences and store your favorite Spotify Premium or Apple Music on the creative MoodBlocks. Additional music services will be added in future updates.
iPhone users need an iPhone 7 or newer running iOS 14 or newer.
For Android users, an NFC-capable phone running Android 8 or newer is required.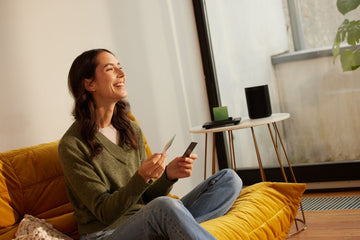 Music for Everyone
Many of our customers tell us that their partner, kids, parents or friends can't use their Sonos system because it's too complicated or because voice control isn't always reliable. It doesn't matter how old you are, or who you are, the MoodPlay is guaranteed to give everyone simple control over Sonos.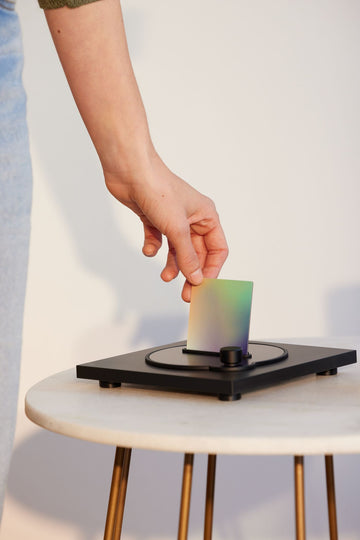 Less Phone, More Home
We love our smartphones but it can also get very distracting and stressful. We've designed the MoodPlay to give us the benefits of digital technology without all the negative side effects. Leave your phone in your pocket and focus on the music, or just enjoying your time with family and friends.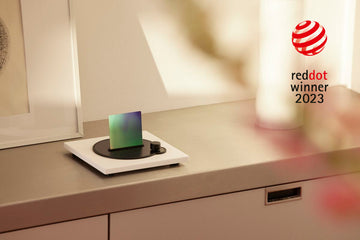 Award Winning Design & Made in Germany
The MoodPlay is made in Germany from the highest quality material. The base plate is made from a high end mineral paired with anodized aluminum on the dial and double hardened acrylic glass.
Skip to product information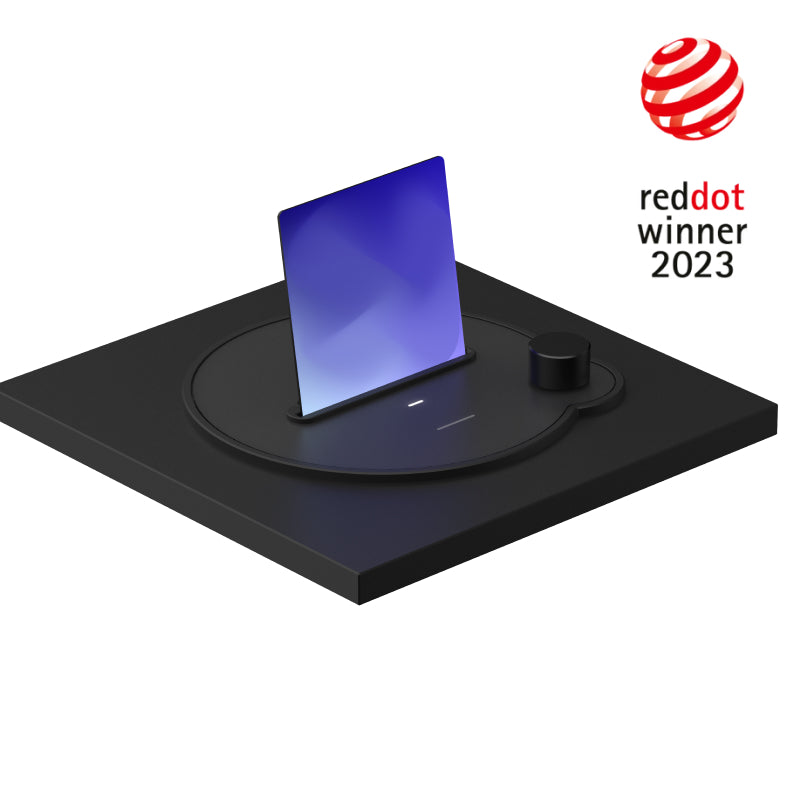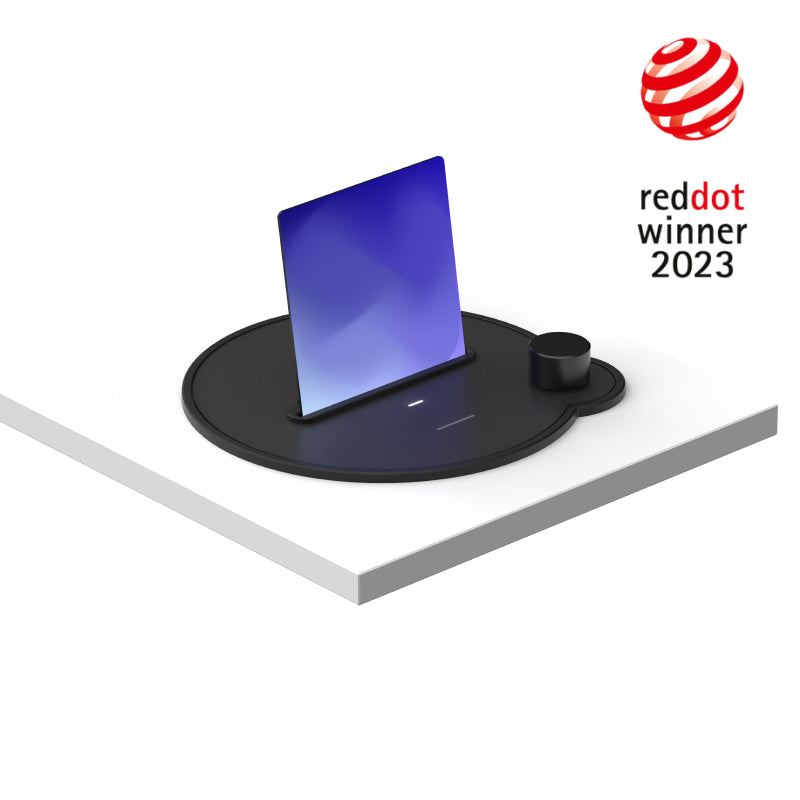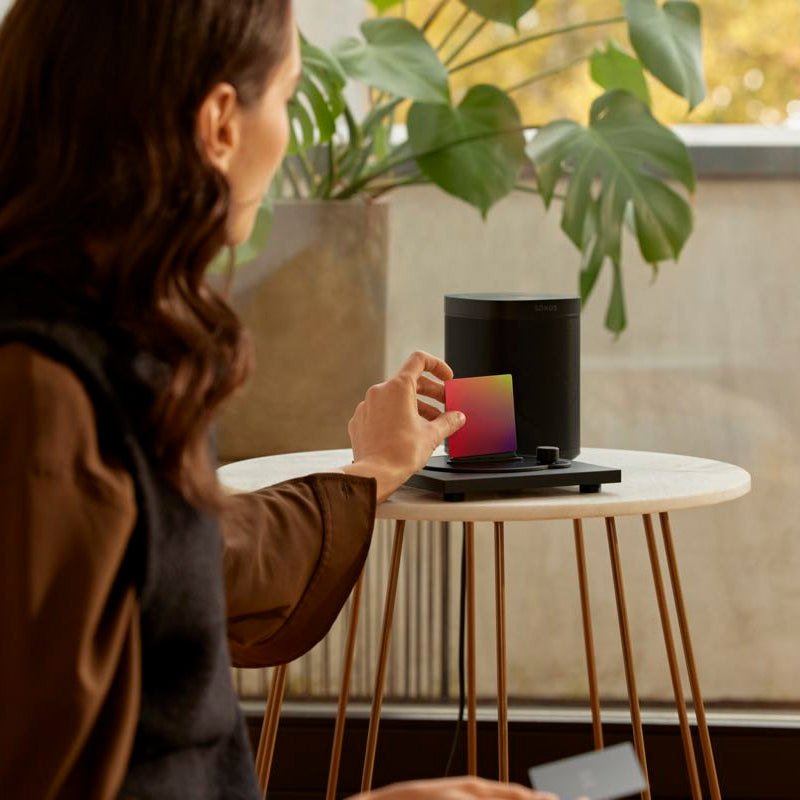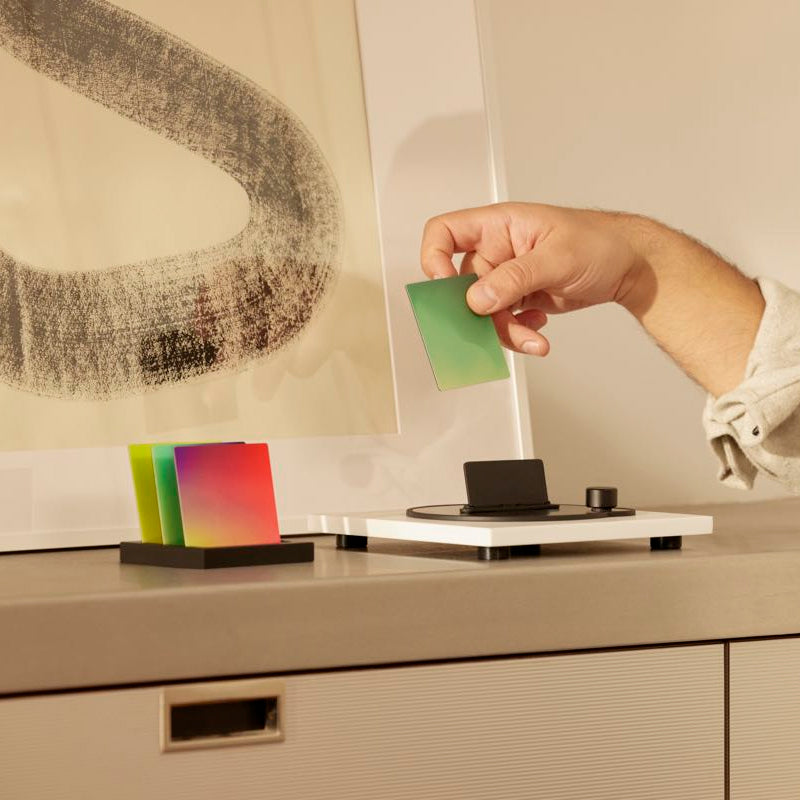 FAQs
Once you have setup your MoodPlay, simply place a MoodBlock on MoodPlay and music will start playing on your Sonos.
MoodBlocks can trigger anything from a playlist, album, podcast and more.
MoodPlay is currently compatible with all Sonos speakers. Currently we offer an integration with Spotify and Apple Music, but we will be adding more music services to Sonos very soon.
Inside the MoodBlocks app, you can choose which Sonos speakers should play music.
A physical dial on the surface of the MoodPlay allows you to adjust the volume. If you press the dial, you can start/stop the music.
A touch surface next to the dial allows you to swipe to the next or previous song, or adjust your speaker group.
Over time, we will add more features through free software updates.
Setup is very simple. Just download the MoodBlocks app for iOS or Android, and follow the instructions.
In the first step, you connect to MoodPlay using the app and tell MoodPlay to connect to your wifi by typing in your wifi password.
Once you have done this, you select which speaker the music should start playing on.
That's it! Now you can start controlling and listening to music using MoodPlay.
We differentiate between 3 stages.
• MVP are features that will definitely be there by the time we ship
• Post-MVP Features are Features that might already be there by the time we first ship the products or come through a free software updates in the following weeks.
• Ideas are features that have been mentioned but we have not decided on these yet.
• You can find the full list here.
One MoodPlay, in the color of your choice (black or white)
One USB-C cable and charging block
3 MoodBlocks that you can store music on
1 free sticker set with music genres
free shipping within Europe
If you don't like the product, we offer an extended 30-day "no questions asked" return policy. Please note that you will need to pay for the cost of returning the shipment.
Additionally we offer a 2 year warranty for manufacturers defects that occur on any of our products.
MoodPlay costs 249.99€ incl tax in Europe.
Dimensions: 180 mm x 180 mm x 50 mm
Weight: 500 g
Materials: Polycarbonate, mineral plate, aluminum, PMMA
Connectivity: Bluetooth, Wifi (2.4 Ghz)
Range: Must be within range of your home Wi-FI and/or router. If you are having range issues, it's possible that other devices are interfering with your Wi-Fi signal (i.e. too many devices connected to the same channel, etc.)
Power Consumption during normal use: <0.5W
Colors: Black & White
Power: Connected to mains power using a 5V usb-c power adapter (included)
Sonos Requirements: Sonos
App Requirements: iPhone 7 or newer, any Android phone with NFC sensors to store Music on a MoodBlock
Included in Package: 3 MoodBlocks, 1 free sticker set
MoodPlay is made from sturdy material that can be cleaned using a damp towel (in combination with mild soap or similar cleaning detergents). Please do not use any toxic or corrosive cleaners like bleaches.
Open your music app (e.g. Spotify or Apple Music) and navigate to the album, playlist, podcast, etc. that you would like to store on a MoodBlock.
Click on the 3 dots "…", then "share" and then "copy link"
Now switch to the MoodBlocks App. The link to your music will automatically be pasted into the MoodBlocks App.
Now click on "Save to MoodBlock" and tap your phone on the Muse Block. That's it.
Once you have done this and tap the Block, this music will start playing on your Sonos system. You can change this music at any time by repeating this process.
MoodPlay currently works with all Sonos speakers.
You have a Spotify or Apple Music account connected to your Sonos system. We will quickly extend the list of compatible services on Sonos.
You need an iOS (iPhone 7 or newer) or Android smartphone with NFC to store music to a MoodBlock.